Overtourism: The End of the Dream?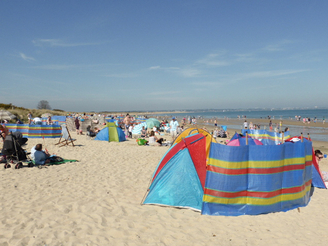 Keep Moving at the Front

The dream is disappearing for many visitors and the nightmare beginning for many destinations. The 'sharing economy' is, for an increasing number of people, more about sharing less and less space with more and more people than any romantic notion of "what's mine is yours". Visiting the Sistine Chapel has become an exercise in self-preservation rather than artistic reflection; that backstreet cafe 'only the locals know about' is a fantasy; and, as for that idyllic deserted beach, forget about it.
Of course, there are exceptions. But my question is: "Are we reaching peak tourism?"
The answer varies from country to country, place to place, and season to season. But peak season congestion in many tourism hotspots worldwide is threatening to destroy not just the visitor experience, but also the natural and cultural environment.
Putting a Finger in the Dyke
Destinations are waking up to this for three reasons:
Residents are becoming increasingly fed up with the impact of what they see as tourism congestion on their daily lives;
The very thing that attracts visitors – the natural environment and built heritage – risks being irreparably damaged;
If the visitor experience becomes intolerable, they will stay away, thus hitting the destination's economy.
So, how are destinations responding?
Barcelona has placed a moratorium on new hotel building; Amsterdam is questioning whether it should cease promotion of the city; Venice is struggling to respond to residents clamouring to reclaim their 'streets'; Machu Picchu has introduced a new permit system; Cambodia banned cars from Angkor Wat last year; Italy's achingly picturesque Cinque Terre coastal villages have introduced a daily visitor quota; and, worldwide, countries and cities are toying with introducing or increasing tourism taxes. Cities, such as London, Paris, San Francisco and Reykjavik, have imposed a limit on sole use, short-term rental of houses and apartments (between 60 – 120 days), largely as a result of the success of platforms such as Airbnb. Neverthelesss, 90 days still seems generous in a city like Reykjavik, where there is only one hotel room for every five visitors in the entire country and the informal rental market has distorted the property market, pricing local people out of homes.
Managing, Not Just Creating, Growth
This is not a diatribe against the tourism sector – far from it. It is a plea to encourage governments, local authorities, national tourism offices (NTOS) and destination management organisations (DMOs) to think harder and plan more strategically for tourism, so that they do not kill the goose that lays the golden egg...........so that tourism can truly benefit their economy, reduce poverty, create jobs, enhance conservation, inspire tolerance, keep communities together, and underpin peace in troubled countries, as so many of us have preached for so long. Tourism can be a force for good, not least in developing economies. But, if not managed properly, it can be destructive of the natural environment, of cultural heritage, of host communities, and of residents' goodwill.
The Solution: Accepting Responsibility
So, what's the solution?
For too long, NTOs and DMOs have played a numbers game, often driven by their political masters: volume (visitor numbers) is easier to understand than value (revenue from visitors). It makes for a better media soundbite. In order to develop truly sustainable tourism, NTOs and DMOs should focus more consistently on:
Spreading visitors throughout their country, thereby creating more jobs where they're needed most;
Attracting more visitors outside the main season, and thereby sustaining these jobs year-round;
Targeting those visitors who will provide the greatest benefit to the destination, in terms of spend, length of stay, season of visit, propensity to travel beyond the 'honeypots', and, most importantly, their (sustainable) behaviour in the destination.
Tourism ministries, NTOs and DMOs should also wake up to their broader responsibility and think about managing growth, not just creating it.
Social media has supplanted some of an NTO's promotional role. Third party, user-generated recommendations are driving interest in places previously known only to a curious few – from the Isle of Skye's Fairy Pools to Iceland's Sólheimasandur beach and Spain's Caminito del Rey. This should free up some resources to invest in managing growth, or at least more nuanced marketing.
Licensing, regulations, quotas and pricing can help moderate visitor flows to specific sites under pressure. But so too can better, more timely information, such as the helpful Cinque Terre app, which enables visitors to monitor traffic flows and check whether there is space for them that day. Such judicious combination of limiting access and empowering visitors to make their own decisions can both reduce congestion and improve profitability.
NTOs too can be smarter in using targeted, timely information to manage growth by time and place. The clever ones do. But more need to. Otherwise, "no vacancy" signs might be replaced by "visitors not welcome" messages.
Putting 'Sustainable' Back in 'Development'
But, more importantly, continuing unfettered growth risks inspiring a backlash against tourism, which could threaten a significant pillar of many economies and, with it, people's jobs. In short, we need to start paying more than lip service to the 'sustainable' part of sustainable development.
The United Nations World Tourism Organization (#UNWTO) showed admirable leadership when it nominated 2017 as the 'International Year of Sustainable Tourism Development'. It's time to call countries to account and ask what they've done differently this year to set a path that leads to a more sustainable future for their visitor economy.